Unlocking Resources for Wound Care Teams: Tips for Demonstrating Value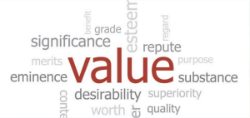 Members of AAWC are known for top tier commitment, specialization, and passion for wound care. Yet among the greatest of challenges advanced wound care professionals face, one is how to demonstrate and communicate the impact and value provided to administrators and clinicians managing or overseeing multiple clinical services.
After all, it's only recently that advanced wound care has begun to become recognized as a specialty and service line -- and there is still a long way to go, not only scientifically or clinically.
Getting the proper buy-in, which in turn unlocks resources for staffing, products, technologies, training, and infrastructure, requires more than the ability to deliver evidence-based, patient-centric wound care. While a short post is not enough to tackle this important subject, what follows are some actionable ways to ensure recognized value:
Determine baseline metrics and KPIs (key performance indicators):

Tracking clinical (e.g. healing rate, healing velocity, average days to heal, etc.), operational (e.g. new patients, visits, cancellation rates, staffing ratios, etc.), and financial (e.g. revenue, expense, profit, cost per dressing change or per healed wound, etc.) metrics and KPIs makes a difference. Starting with baseline historical stats from prior to when the current wound care program (or the new investment in staff, technology, training, etc.) began is a must, though it's never too late to start. Aside from hospital-acquired pressure ulcers (HAPUs), surgical site infections (SSIs), and a couple others which all are influenced by many factors that can be tough to control for, healthcare administrators - especially in care settings that are not hospital-based - have very little insight into the correct ways of telling whether investments are paying off (or if budget cuts are costing more than they're saving). Part of delivering wound care is to ensure administrators have the information to make decisions and see the return on investment (ROI) for advanced wound care.


Ensuring a proper organizational and financial structure:

What is the chain of command for wound care services in each care setting? Is it seen as a function of clinical education? Quality and compliance? A revenue stream? A way to attract patients to the facility? This affects alignment (or lack thereof) with senior administration, key executive goals, and ultimately impacts the availability of resources. Likewise, the smaller the wound care team, the less likely there is to be a separate budget. Tracking an individual and separate budget for wound care apart from ancillary services, nursing administration, education, or other umbrella departments avoids unnecessary politicization and more difficulty/time spent to obtain unique resources necessary for wound care.


Use a dashboard report to regularly share (in person) with institutional administration:

Once items one and two are in place, it's important to distill them into a concise dashboard which can be used as a framework for discussions with administration and clinical leadership. Today, there are more tools than ever for tracking and visualizing changes in your data and outcomes over time.
As with many industries, the more senior the executive or administrator, the less familiar management will be with specific challenges and needs. At the same time, they tend to rely more on data (clinical + operational + financial) to gauge whether investments are being deployed in an impactful manner. Whether part of a large clinic or hospital team, or the sole specialist in an SNF or home care agency, the ability to regularly articulate a wound care program's needs and performance to administration, using real-world metrics, in a relatable and useable form is a key component of ensuring wound care efforts are properly resourced.
About the Author
Rafael Mazuz is the managing director of Diligence Wound Care Global. To contact, email: [email protected].
Share this post: