Practitioners sharpened their wound-healing skills at AAWC Wound Care Tricks of the Trade
As the premier voice of wound care, AAWC offers the hands-on education that elevates a practitioner's wound care knowledge and skills. Most recently, AAWC held Wound Care Tricks of the Trade on September 11, 2019. This Wild on Wounds pre-conference workshop gave nurses and physicians insider wound care tricks and expert training. View photos here!
The workshop was a day-long educational session lead by seasoned wound care practitioners, Catherine T. Milne MSN, APRN, ANP/ACNS, CWOCN-AP, Kara S. Couch, MS, CRNP, CWCN-AP, and Marta Ostler, PT, CWS, CLT. During the workshop, attendees benefitted from educational sessions and hands-on training that covered:
Selecting topical dressings
Basic Negative Pressure Wound Therapy
Advanced Negative Pressure Wound Therapy
Choosing and applying compression
Managing Lymphedema
Clinical management of diabetic foot ulcers and Total Contact Casting
Each session provided unique "tricks of the trade" including useful tips on how to identify, dress, manage, and treat wounds both quickly and effectively. Throughout the day, seasoned instructors helped attendees navigate difficult wound care choices and learn how to adapt without specific wound care supplies. Towards the end of the program, attendees had the opportunity to learn about Total Contact Casting (TCC). Many nurses performed TCC casting for the first time with guidance on proper procedure and application from AAWC instructors.
Wound Care Tricks of the Trade educational sessions reinforced the idea of creativity. The premise that if a practitioner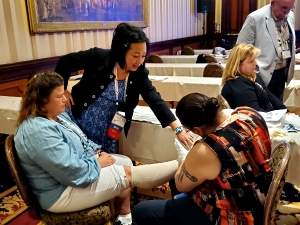 doesn't have all the tools, then the solution relies on creativity. Hands-on sessions encouraged attendees to be creative and get in the habit of choosing the best course of action given select resources when practicing wound care.

In addition to hands-on, expert-led training, attendees benefitted from:
Registration that included a one-year AAWC membership

AAWC members have access to the monthly Journal Club, Trip Database, event discounts, and more

The opportunity to earn up to 6.75 ongoing education credits

$100 off Wild on Wounds Conference, an exclusive offer for AAWC members 
AAWC has many educational opportunities throughout the year. Near or far, join us for our September Journal Club "A Standardized Approach to Evaluating Lower Extremity Wounds" tomorrow evening, 8:00-9:00 p.m. EST, presented by Marta Ostler CWS, CLT, PT, and Mary Haddow, RN, CWCN. Register to get a unique preview of the topics that will be covered at AAWC's Lower Extremity Summit (LEx), November 2-3, in Sacramento California.
This year's Wound Care Tricks of the Trade would not be possible without the generous support from its sponsors.

Thank you, Wound Care Tricks of the Trade Sponsors!
KCI An Acelity Company
Integra Life Sciences
Tissue Analytics
Molnlycke
Prism
Medline

For more information visit AAWC.
Share this post: