A Baseball Bruise and a Battle for Limb Salvage - Part 4
62-year-old pitcher JH was hit in the shin by a baseball on the last Sunday in June. In the subsequent 60 days, he experienced excruciating pain, multiple visits to emergency departments, 28 days as an inpatient in two different hospitals, underwent five surgeries with full anesthesia, fought staphylococcal and E. coli infections, a maggot infestation, a full-thickness vascular flap transplant a skin graft, and went from no dressings on his wound to a cast covering.
The complement of caregivers in this complex case included emergency department personnel, infectious disease specialists, a renowned limb transplant physician, and countless nurses, aides, and therapists, all collaborating in the battle to save JH's life and leg by arresting an infection before it entered his bone and then, potentially, his bloodstream.
After the fifth surgery, the medical team had confidence that the battle was nearing the end and victory was in sight. Taking no chances, a cast immobilized the area around the wound to promote faster healing and provided additional barriers from infection. [View: Bandaging and Casting Techniques for Wound Management].
After 10 days of recovery at home, JH returned to the hospital – for the first time in a non-emergent manner. His cast was removed, revealing a wound in full healing mode. Still red in appearance—the inflammation of healing, there was evidence that new skin was forming and more important, there was no evidence of infection.
JH underwent the sixth surgery – a cosmetic procedure to marginally reduce the size of the hoagie roll. Once the sutures were removed from this procedure, he was cleared to resume sports after a 20-day wait.
In retrospect, the medical team believes one of the threads on the baseball's seam made a tiny cut to the skin at the moment of impact. While not visible, it enabled bacteria to enter the wound and create an infection.
The initial incision and drainage of the hematoma that formed from the contusion was indicated and was an appropriate approach for such a wound. While there are differing opinions on whether a wound such as this should have been dressed or remain undressed at discharge, hindsight suggests dressing this wound would have been preferred. [View: Caring for Cuts, Scrapes, and Wounds].
Further, the decision to discharge JH early after that first infection treatment is something else hindsight suggests might have been done differently. [View: Wound Infection].
The maggot infestation was the likely result of a simple housefly being drawn to the wound. Because the injury occurred during the summer months, flies and other insects are abundant and unavoidable. Whether different instructions could have averted the infestation is unknown.
At some point later in his healing, JH received a call from a senior executive of the hospital where he was first treated. The executive acknowledged JH's early release appeared to have been a mistake. In telling his story, JH wants to be clear that he is not calling out any individual or institution. He didn't like his treatment at one place and sought treatment at another.
JH said he recognized the challenges of his injury, understood there were risks in the processes to help him heal, acknowledged that the medical team at the second hospital did everything possible on his behalf and that no system or individual is perfect. The only thing he would have wanted to be better was the communication with him from the care team. Lastly, at no time did he consider a legal review of his treatment.
JH's leg has been saved. His medical team cautioned that he would not be considered completely "out of the woods" for nearly a year, by which time the wound would be fully healed. Nonetheless, JH returned to the pitcher's mound for all four baseball teams by with no restrictions, precautions, or protective measures.
It had been a long nine innings but JH and his medical team had scored enough runs and this was a game they could all put in the win column.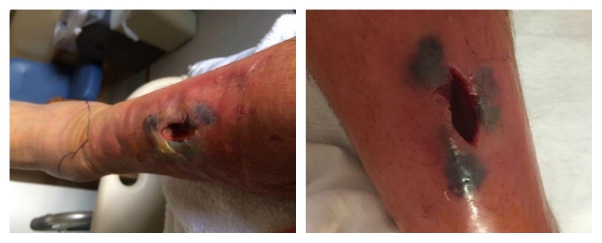 Share this post: