A Cut Above: Cultivating Patient Compliance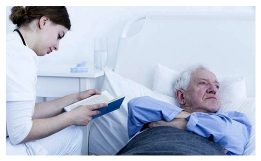 Non-compliant patients can be difficult. Have you ever been in the position where you know you are doing everything you should be, but your patient isn't getting better? At one time or another, we have all been there, with a non-healing wound, wondering what vital aspect of the wound care process we are forgetting. Then we find out that our patients severely misunderstood our instructions, or even worse, ignored them. It has been estimated that the direct and indirect costs of non-compliance on healthcare are upwards of $100 billion per year. I would like to believe that most of my patient's non-compliance is not because they are lazy or don't care, but rather that I need to change my approach. Let me explain how we, as health care providers, can change our approach to improve compliance and patient outcomes.
Education, education, education.  Let me say it again, educate your patients. They need to know not just how to help themselves, but why. For example, a patient that needs to change their dressings every other day at home might know the step by step process for cleaning the wound and changing the dressings, but they are not doing it because they need to know why it is important. Should they be doing it simply because you want them to? No, they should be doing it because their dressing becomes saturated and we need to ensure a healthy amount of moisture on the wound bed. Without this, it is going to take them longer to heal and increases their risk of complications such as an infection. Letting your patients know the details will help motivate them. Make sure you are giving the patient directions using terms they understand. Instead of saying, "we need to use this hydrofiber dressing to prevent maceration of your periwound" use the phrase, "we are using this white material to soak up drainage so that it doesn't get your skin too wet and cause further damage." If we give our patients why, rather than just how, they are more likely to be compliant with their program.
Know your patients and what they need from you. I had a patient, let's call her Sally. I had given her instructions on what to do at home and why she needed to do it. The problem was, I didn't understand that she was a person that also needed to be instructed on what not to do. I was shocked when she came on the next visit and told me she cleaned the wounds with her homemade saline before debriding them with her kitchen knife. Yikes! After getting to know her better, I understood that if I was going to educate her on the importance of something, such as debridement, I would also need to educate her on why it was not safe for her to try it at home. I had another patient whose wife would assist him with dressing changes. After seeing him for over six months, I assumed she had it down. Then one day, she came in crying and told me that she thought she was making things worse because she felt she had no idea what she was doing. I had made the mistake of not asking what I could do to help her — it was as simple as detailed instructions written down. If we don't get to know our patients, their personalities, and their needs, then we will not be able to tailor our instructions to them as an individual.
Get to the bottom of the issue. Is the patient not doing as instructed because of fear? Misunderstanding? Perhaps they don't have the right tools? For a long time, our clinic had to have our patients order their wound dressings. We didn't have a company that we worked with for supplies and our small wound clinic couldn't afford to provide them to the patient. We would do everything we could to set them up for success with this process. We even had a supply list with pictures so they could go to the store and easily find what they needed. Unfortunately, we were sending so many patients to the store that they sold out of supplies. Of course, things like this only happen before the weekend, so our patients were left high and dry not knowing what to do. A backup plan is important. Make sure your patient knows what to do if the original plan falls through. Have an open conversation with them and ask them what their barriers are. Often, there is an easy answer, but your patient will never know this solution if you don't have the conversation.   
Get your patient involved. When patients have buy-in to the process, they will be more likely to follow through. Let them know that they are just as important to the wound healing process as you are. Let them know that you are a team and you are open to suggestions and are willing to make changes to better suit their needs. Encourage your patients and let them know that they are doing a great job at home. Get their family members involved so they have an accountability partner. Be open with your patient; let them know they are important to you and you want them to get better. Be humble, ask them if there is anything you can do differently to help them be more adherent.

Non-compliance with a wound program can be frustrating and exhausting for the provider. It can provide a puzzle for the provider to put together the pieces of why their patient is not adhering to their carefully thought out plan. Rather than giving up on these patients, take a step back and reflect. And don't be afraid to ask yourself, are you missing something? 
Share this post: