A Cut Above: The Struggles of a Woundcare Provider During a Pandemic
As healthcare practitioners, COVID-19 has changed the way we practice in ways we never saw coming. It seems like overnight our world was turned upside down and with this, the way that we practice healthcare. As a physical therapist, I am very social and the personal time I spend with each of my patients is important to their overall care. While I have not given up this aspect of care by limiting exposure, I have had to change what it looks like. I have found ways to show my patients I care and to advocate for them from a distance. While COVID-19 has led to multiple struggles, it does not need to prevent us from continuing to provide quality care.
While I have always viewed it important that my patients have a thorough understanding of what they should be doing at home, it has become the most important part of my care plan. I have had to teach patients who do not feel comfortable changing their dressings how to do so to limit their exposure in the clinic. More than ever, I have become a cheerleader for these patients, encouraging them that they are capable of doing things they never thought they would have to, such as taking a lead role in their dressing management. I cannot stress enough the value of well-written instructions and pictures to help these patients out. E-visits have proved to be very beneficial as well to allow me to walk the patient through the process; though many of my patients who are getting wound care are not tech-savvy, so again I am doing a lot of coaching to help get them set-up. I go into each Zoom meeting with a mindset that I am going to need to be patient because sometimes half of the battle is getting the patient signed in. This battle is worth it because it means a lot to the patient to see your face and know that you took the extra effort to help them out. By getting the patient to a point where they are comfortable with being a part of the wound care team, we can ease some of their worries during this stressful time.
We have heard and experienced time and time again the difficulty with finding PPE to use with our patients. What has proved just as difficult for me is managing the PPE during wound care procedures. First of all, I wear glasses and with every breath I take, they fog up. It makes it very difficult to debride a wound when you cannot see it! First, I tried keeping my glasses a little farther from my face, which stopped the fog but led to my glasses falling off. I have researched multiple methods to assist with this, many of which seemed as if they would either decrease the effectiveness of my mask or leave a film on my glasses. While not 100% effective, the soapy water technique worked best for me;
"Immediately before wearing a face mask, wash the spectacles with soapy water and shake off the excess. Then, let the spectacles air dry or gently dry off the lenses with soft tissue before putting them back on. Now the spectacle lenses should not mist up when the face mask is worn," said the study in the Annals of The Royal College of Surgeons of England.
Along with the fogging problem, allergy season is hitting my region. I am constantly fighting the urge to remove my mask and itch my nose. Unfortunately, there is no magic trick for that one, so I am just going to have to deal with it. At least I am no longer battling a double struggle with foggy glasses and allergies.
For me, the biggest challenge of all during the Pandemic has been getting in contact with other healthcare providers. We are all well aware of the importance of a team with wound care. As a physical therapist, I am unable to perform a culture without a script or prescribe an antibiotic and I must have a good physician by my side. As clinicians have decreased their hours in the clinic, it has made it very difficult to get anything done promptly. Let us use my patient, we will call her Sally, to drive this point home. Sally first started seeing me about a month ago for her venous insufficiency ulcers. During our time together, she met with a vascular surgeon and it was decided that surgery would be necessary. Unfortunately, this surgery was deemed "elective" and canceled. Due to pain, Sally could not tolerate any compression, which we all know is a vital aspect of healing these ulcers.
Our goal went from healing the wounds to wound maintenance until she could have surgery. Within the next two weeks, the wound size continued to increase, with worsening pain and erythema. It became clear that we needed a culture but I was unable to reach the dermatologist who had referred her due to his limited schedule. Her primary care physician only works one day a week, but we decided we would try to work with him to address the possible infection. Despite multiple phone calls it took over a week to get a culture for Sally. Our current system was not created to function well under a limited exposure schedule where providers are rarely checking their messages, and this led to Sally suffering. I am happy to say that, despite this struggle, there is a silver lining. Her infection was eventually addressed and the decision to postpone her surgery was reversed.
The last few weeks have been a whirlwind for the healthcare community. COVID-19 has forced us to change how we perform our jobs and how we treat our patients. While it has been a struggle, I do believe we will come out with a stronger skill set and better ability to think outside the box. I look forward to the day when we can all say, "We made it through this, and we are stronger for it!".
About the Author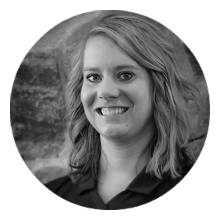 Amanda Blackmon, PT, DPT, CWS, CSWS, is the Director of Premier Therapy Services at Premier Bone & Joint Centers. She grew up in Laramie and completed her undergraduate studies at the University of Wyoming, receiving a B.S. in Kinesiology and Health Promotion. She attended physical therapy school at Creighton University where she received her doctorate degree. Amanda is certified in dry needling, wounds, orthotics, myofascial trigger point therapy, sportsmetrics, custom splinting, neurological rehab and TMJ. Amanda is an active member of the AAWC and serves on the AAWC Communications Committee. 
Share this post: